If you have decided to earn money online as a freelancer then you have taken a very rightful decision because freelancing is one of the best and stable methods to earn money from home.
By doing freelancing jobs you can earn a full time income for living. There is no limit on the amount you can earn from freelancing but on avg you can easily earn $500+ a month.
Freelancing is perfect for individuals who are skilled at something but if you aren't skilled at anything then you can learn skills in the field you are interested and start working.

This is how freelancing work:
1. Thousands of clients post various tasks on best freelancing sites.
2. You need to choose tasks related to your skills and write a proposal.
3. If client likes your proposal then you will be hired.
4. Complete the given task in the given time and get paid.
Advantages of freelancing:
* You don't need to pay anything to start earning money.
* There will be no pressure of work as you will be working on your own convenient time.
* You will be earning money by doing what you are good at.
* And You'll never have to worry whether you will get paid or not because money from freelancing is guaranteed.
There are many popular and best freelancing websites from which you can earn money and all freelancing sites are very similar to each other.
In this post, I will write about the best freelancing websites & I will also describe the steps required to earn money from those freelancing sites.
You can follow the same steps to earn from all of the freelancing sites listed on this page.
| | | | |
| --- | --- | --- | --- |
| Skills Required: | Any Skill | Duration: Depends | Income: $500+ a month |
Steps: How to earn money from Freelancing sites:
1. Determine the field you are good at
2. Join & create a profile on freelancing sites
3. Start bidding on projects
4. Get hired and complete the task
5. Setup Payment methods and get paid
Read the below steps clearly to understand how to earn money from freelancing sites.
Step 1: Determine the field you are good at
Before you get started, you need to determine the field in which you have good skills and in which you are interested to work.
In freelance jobs, there are hundreds of categories/fields to choose from. You will find a list of those categories here
Have a look at all of those categories and choose a category in which you are highly skilled.
Writing, web design, translation, consulting, Photoshop and SEO are most the most popular freelancing jobs. Writing and translation jobs are very simple and anyone can do that.
If you cannot find the category in which you are skilled then try to learn any skill and then start working.
Step 2: Join & create a profile on freelancing sites
If you have determined the field of your work and ready to go then the next step is to register an account on freelance sites and setup a profile.
You can see a list of popular freelancing sites below, I have arranged them according to their popularity. You can Join all of those sites or choose any one.
While you are registering, you will see two options on most of the freelancing sites, those two options would be "Hire" and "Work". Select "Work" since you are going for work.
You will be asked to fill details such as your name, email, phone number, etc.. fill true details only.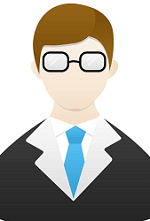 Setup a good Profile:
This is the most important part where you will be asked to select the fields in which you are skilled and write a paragraph about your experience in the selected fields.
If your profile is good looking and professional then there is a higher chance to get hired So, choose a good profile picture and write some good lines about you & your work related to the field you have chosen.
Step 3: Start bidding on projects

After you've setup your profile successfully, now it's time to find projects that relate to your skills and start bidding.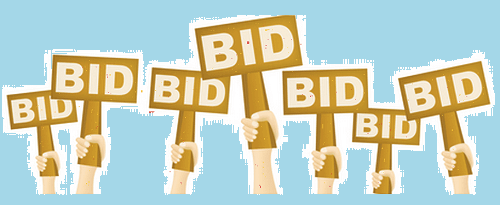 On most of the best Freelancing websites, you will generally see recently posted projects related to your field on your dashboard.
If you can't find the project on your dashboard then simply click on "Work tab" or "selling tab" and choose the correct option.
Before you start bidding, go through the project clearly & understand it. Start bidding for that project only if you are sure that you can deliver in the given time.
There will be many projects related to your work, you can start bidding on all of them but on some freelancing websites you can only bid up to certain times as a free member.
Step 4: Get hired and complete the task
There will be several people bidding for the same project and because of that, it will be difficult to get hired so, follow the below tips to have more chances to get hired.
1. Tell them that you are new and you can do their work at discount price(Remember in the beginning you will have zero ratings so, in order to get hired you'll have to offer work at cheaper prices. Once you have enough ratings you will be hired easily for any price you offer)
2. Show your excitement to the client about the project he/she has posted.
3. Ask some questions if some information is missing from the project description, it will increase the chances to get hired.
4. If you have already done some work related to the project then provide similar samples.
If you are hired then complete the given project in the given time and get paid.
And If the client likes your work then you will get ratings. The more ratings you have the more will be the chances to get hired.
Sep 5: Setup Payment methods and get paid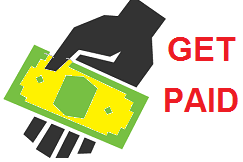 After completion of each project, your balance will keeps increasing on freelancing websites. You can transfer the money to your bank account.
Some freelancing sites will pay you via PayPal and some others will directly pay you to your bank account.
If you don't have a PayPal account then you need to create it because it is very popular online payment processor and you'll be needing it for almost everything if you are working online.
The amount you receive into your PayPal account can be directly transferred to your bank account. Click here to learn how to create a PayPal account for free
So, these are the five steps that are required to earn from any of the freelancing sites. Some features may differ on some freelancing sites but the concept is same.
Below you will find a list of top 3 Freelancing sites in the world from which you can make money online from home.
List of best Freelancing websites for Freelancers

All of the below freelancing sites are free to join. You can start earning money online from these sites without any investment.
1: UpWork

Upwork is one of the best freelancing websites in the world with over 1.5 million clients. According to Alexa, it is one among the top 500 visited websites in the world.
There is nothing you can't find on UpWork as a freelancer because it has every field to work with.
To join UpWork click here and click on "Become a Freelancer" button located at the top right corner and continue with the process.
Watch the below video to learn how to create a professional profile on UpWork.
Here is another video explaining how to submit a UpWork Proposal/bid
2: Fiverr

Fiverr is another very popular and best freelancing website with over 3 Million different jobs posted there.
According to Alexa, it is one among top 450 visited websites in the world and it became popular very quickly.
To join Fiverr click here and then click on "Join" button & follow the steps. To start working on Fiverr you need to create a Gig.
Watch the below video to learn tips to create a gig on Fiverr. For more info about Fiverr please comment below.
3: Freelancer

Freelancer is similar to UpWork and it is too a very popular freelancing website. According to Alexa rankings, Freelancer is one among top 2k ranked websites in the world.
If has over 18 Million freelancers all across the world. On avg, you can earn from $10 – $50 per project.
To join freelancer click here. Next, click on "I want to work" button and follow the signup process. Freelancer is very similar to UpWork so every process will be same.
4: Guru
Guru is yet another a very popular freelancing website. It was founded in 1999 by Inder Guglani.
You can find any kind of freelancing work there. Guru has over 1.5 million members world wide with 1 Million jobs completed so far by "Gurus"(freelancers). It has already paid about $200 Million to freelancers.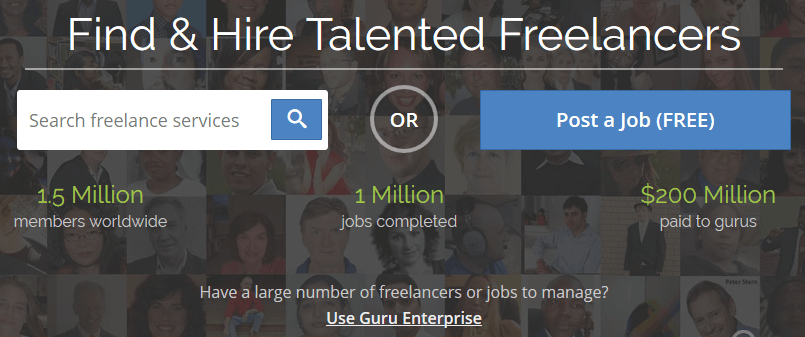 To join Guru click here, then select "I want to work". Now fill the registration form and click on "Join Guru" to complete the Sign Up process.
So these are the 4 best freelancing websites where you can use your skills to earn money.
Remember: In the beginning, it is always difficult to get hired on any freelancing site.
The one who continues to work hard only succeed in getting into others projects. If you give up after few trials then you will ever get any kind of work on any freelancing site.
Recommended articles for freelancers:
1. How to create a blog and make money?
2. Get Paid To Write Articles Online: $250+ a Month