Are you looking for legitimate ways to make money? Do you want to convert your free time into a productive money-making system? Then this post is for you.
Have you been scammed by some online earning sites?
Then no worries, even I was scammed when I started searching for ways to make money from home. Sad times are gone! It's been seven years now!
In this post, I am going to share with you the most profitable and legitimate money-making methods that I've been using to make money for seven years.
Earning money from home is everybody's dream job because you can be your own boss.
It doesn't matter whether you are from Canada, the UK or Australia or etc. It also doesn't matter whether you are a student, homemaker, retired person, etc.. because these methods work for everybody.
Note: You can start making money with these methods without any investment. You can also invest if you want to speed up your earning process.
In the beginning, earning money from home can be difficult but once you get into it then you may start making an income that you never even through.
7 Legitimate Ways to Make Money from Home | 2022

Below you will find "how to make money from home for free" with the following 7 methods.
All of the methods are explained step-by-step on separate pages. You can choose any method you like and start working on it.
You can easily make $500 – $1000+ online if you follow the methods properly. There are people who make over $50k every month. You can be one of them.
Remember, you won't make any money unless you take any action.
1: Start A Blog

The post you are reading right now is called a blog post. And I make money writing posts on my blog. When people visit my blog from Google then I make money through Affiliate marketing or displaying ads.
Blogging is one of the very powerful, popular, legitimate and stable ways to earn money from home. There are bloggers who made millions of dollars just from their blogs.
If you own a blog and if it gets traffic from Google or from any Social networks then you can make from $1 – $100+ every day. There is no limit!
Blogging is not a quick rich method. If you gave up your job and want to make money from blogging then it can be difficult since blogging takes time to make money.
You can create your own blog for free, you can try WordPress, Blogger, Wix, Weebly, Tumblr, etc..
Free blogs usually don't generate much money so it'd be better if you start with $20 – $50 investment for your blog.
Check this guide to learn everything about blogging in detail: How to Create a blog to make money?
2: Become an Article Writer

If you are good at English and if you love to write articles then become an Article writer and start earning money from home.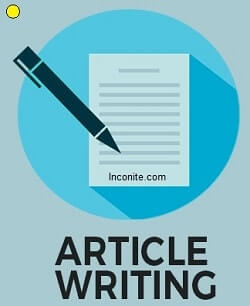 The internet is expanding every day so, there is a huge demand for articles, everybody wants unique content for their websites or blogs.
You can help them by writing content and they will pay you a certain amount of money based on the number of words and quality of the content you write.
You can make a decent income this way. If you start writing then you will earn from $3 – $8+ per a 500-word article in the beginning.
So, if you write 3 articles per day in 3 hours then you can earn $9 – $25+ easily by sitting at home in front of your screen.
Note: You can make up to $100 per 500-word article but to get there you need to write good content consistently.
Check Guide: Article Writing Jobs
3: Start a YouTube Channel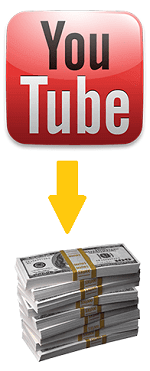 Youtube has become a very popular way to make money from home without any investment. These days people of all ages are making huge money from their Youtube channels.
You can do that too! think of a niche and start planning for awesome ideas for your videos.
To start earning, you should create a channel and upload some quality videos. It can be any kind of videos, such as funny videos, tutorials, cooking, etc..
If people like your videos then they will start sharing them and this will help your channel gain subscribers very quickly.
Once you start getting many views then you can monetize your channel by using different ad networks such as Adsense or do Affiliate/CPA marketing, etc…
4: Earn Money from PTC sites
If you don't want to do the hard work and want money without the use of your brain then start earning money from legitimate Paid to click(PTC) sites.
PTC sites pay you for viewing advertisements, watching videos, completing offers or tasks, taking surveys, playing games, referring other people, etc..
That is why earning money from PTC sites is very simple. Even a dog can earn money from PTC sites if he/she has access to a PC/laptop with an internet connection.
There are many good PTC websites from which you can make money. Also, there are a few scams so be careful, join the only sites recommended on this blog.
You can't make a huge income from PTC sites but about $100 – $500 per month would be enough to fill your pocket with extra cash.
Find more details about PTC sites here. You may also like these world's best-earning sites.
5: Do Affiliate Marketing
Affiliate marketing is a gold mine for many online Entrepreneurs.  You wouldn't believe. People make millions doing affiliate marketing.
You also need to be cautious because Affiliate marketing is not for everybody because many fail to make even a single dollar from this method. Experience matters here!
Affiliate marketing requires no investment and you can also use your blog or even your social media platform like Facebook, Twitter, Instagram to promote affiliate products or services to earn money.
If you are serious about earning money from home and if you are a hard-working guy who wants to make a huge income then affiliate marketing will be a perfect option for you.
There are many online merchants like Amazon, eBay, Clickbank, etc. which gives you about 4% to 20% commission if your promote their products or services.
6: Earn Cryptocurrencies

You might have already heard of Bitcoin and the other cryptocurrencies and why many people are interested in crypto.
Many people earn or buy Bitcoins and sell them when Bitcoin price goes up.
If you never heard of Bitcoin then let me tell you a few important things about it,
Bitcoin is the first digital CryptoCurrency which was launched in 2009. The price of one Bitcoin was then less than $1 and now 1 Bitcoin is worth $19,000(Dec 2020)
Just like how Gold is produced by mining, Bitcoin is too produced by mining but through CPU processors. Bitcoin is also limited just like Gold.
A total of 21 million Bitcoins can only be mined and as of today, already 90% of Bitcoins have already been mined. The more the demand for Bitcoin rises, the higher the Bitcoin value goes.
The value of Bitcoin is increasing daily(sometimes it sinks as well) and it is expected to grow more and more.
See: how to earn free Bitcoins also earn free Cryptocurrency
7: Do Freelancing

If you have any skills such as website design, photography, video animation, audio recording or any other kind of skill then become a freelancer or Fiverr or Upwork or Freelancer.
As a freelancer you can easily make from $100 – $2000 or even more per month, it depends on your work and gigs you land.
If you are working for other companies then you will have the pressure of work but if you become a freelancer then you will not have any work pressure at all, you can work on your own time.
You will be your own boss! you can accept or reject any project.
Recommended Freelancing sites: Fiverr, Up work, FreeLancer
Check this guide: Earn from Freelancing Jobs
So these are the 7 legitimate ways to earn money from home without investment. Please take action now or you will earn nothing!