Ad clicking jobs are one of the simplest ways to earn money online. One doesn't need any kind of knowledge or experience to earn from Ad clicking Jobs.
There is no registration fee and nothing, you can join any ad clicking site right away and can start earning money from today itself.
Many people from India, United States, Pakistan, etc rely on ad clicking sites to earn some part-time income.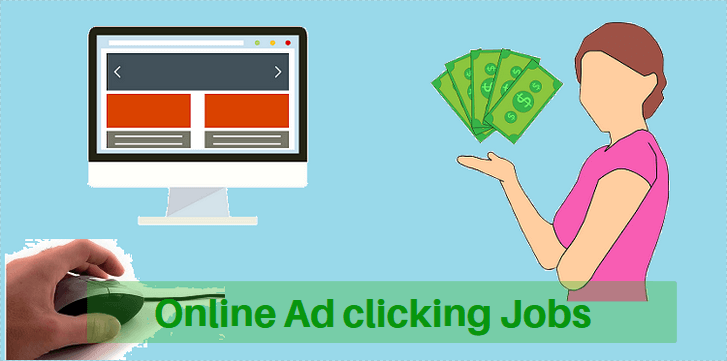 If you want to earn money online without investment by clicking ads then continue reading this post because I will guide you step by step. I will also share some of my tips and tricks to earn more money from ad clicking jobs.
Earn money online without investment by clicking ads:
Online Ad clicking jobs are also called as paid to click jobs and the sites that pay money for clicking ads are called as paid to click sites. In short, they are called as PTC sites.
It doesn't matter whether you are a mom or a student or a retired person because ad clicking jobs are for everyone.
Paid to click sites will pay you in USD but you can convert USD to your local currency easily. I have written about it below.
How Ad Clicking Jobs work?
Advertisers pay money to paid-to-click sites for displaying their ads and these sites pay money to members who click ads.

Ad clicking sites have many ads displayed on their sites. They pay you from $0.001 to $0.02 per every ad you click. The duration of each ad may range from 5 seconds to 60 seconds.
To earn from Ad clicking Sites,
First, you need to register your account on paid to click sites. The registration process is very simple, it only takes about 1 – 3 minutes to join a Paid-to-click site.
Next, you should login to your account and click ads daily. When you reach the minimum withdrawal amount then you can withdraw your earnings.
What are the best Ad Clicking Sites?
Below I have listed 6 best ad clicking sites. All of these sites allow free registration. You can join them all!
Note: Do not create more than one account on a single pay per click site. If you do so then your accounts will be banned.
1: Neobux
Neobux is the worlds biggest paid to click site. It is also called as the king of Paid To Click sites.
Neobux is online since 2008 and it always pays instantly. You can earn money by clicking ads, playing games, referring people, completing small jobs, etc..

Pay per click = $0.01 | Min Payout = $2 | Payment Proofs: 1, 2, …

I made over $18,000 so far from Neobux. Check out this Neobux Earnings Guide.
2: ClixSense
ClixSense is one of the oldest and very trusted sites to make money by completing simple offers and tasks. It is online since 2007.
Click and earn was the main feature of Clixsense until mid-2017 but now ClixSense is no more a PTC site.
Instead, you can earn a lot from Clixsense by completing offers, surveys, Tasks and much more.

Pay per Task = $0.02+ | Min Payout = $5 | Payment Proofs: 1, 2, …

I made over $22,000 so far from Clixsense. Check out this ClixSense Earnings Guide
3: Difbux
Difbux is a very new and unique paid to click site, it is online since July 2017 and pays instantly.
Difbux has an awesome achievement system to reward users for reaching milestones.
You can earn money by clicking ads, completing offers & surveys, by playing DifPrize, etc..

Pay per click = $0.001+ | Min Payout = $5, Payment Proofs: 1, 2, …

I made over $600 from Difbux so far. Check out this Difbux Earnings Guide
4: ScarletClicks
ScarletClicks is one of the most trusted PTC sites which is paying since 2009. You can earn up to $0.01 per click and up to 100% from Direct Referral clicks.

Pay per click = $0.001+ | Min Payout = $2 | Payment Proofs: 1, 2, …

5: Optimalbux
Optimalbux is owned by the same admin of ScarletClicks. It was launched in Jan 2018 and it is one of the hot ad clicking sites of 2018.

Pay per click = $0.001+ | Min Payout = $5 | Payment Proofs: 1, 2, …

6: Paidverts
Paidverts is yet another Paid to click site that pays for clicking ads. First, you need to click BAP ads that will give you points.
The more BAP points you have the higher value of ads you will receive. There are some other ways too to make money from Paidverts.

Pay per click = $0.01+ | Min Payout = $2 | Payment Proofs: 1, 2, …

So these are the best ad clicking sites in India and other countries. To learn more about Paid to click sites check this PTC sites guide.
How will I get Paid?
Most of the online ad click jobs sites pay via Skrill or PerfectMoney. You need to join these payment processors and link any one of them to your Paid to click sites.
When Paid to click sites pay you then you will receive the money to the payment processor you added. Next, you can send your money from the payment processor to your bank account.
To get paid from Paid to click sites I recommend Skrill because it is very easy to transfer money from Skrill to a bank account.
How to Earn more?
To earn more from Pay per click jobs I recommend you the following.
1: Login to your PTC sites account daily and click all of the ads.
2: Refer more and more people. You will find your referral link on your account page of every PTC website. The more you refer the more you will earn.
You can join money making facebook groups and can promote your referral links there for free. You can also ask your friends to join.
3: Complete offers, Surveys, Mini Jobs, etc.. to earn a lot from ad clicking sites.(RECOMMENDED)
My personal trick to earn more money from paid to click sites is to refer more and more people and to complete Offers, Surveys and Mini Jobs.
Ad Clicking Jobs Payment Proofs
I have made over $40,000(Rs 26,00,000) only from Paid to click sites. You can too make that much but you need to have thousands of referrals.
Here are some of my payment proofs.
If you want to see more proofs then find them on this page: Online Job Payment Proofs

If you are looking for more Online Jobs then check out this post How to earn money online without paying anything.
Also, check 10 best online money making sites.
So this is how you can earn money online without investment by clicking ads. If you have any doubts then you can comment below or you can leave a message using our Live Chat box.