If you are a complete beginner and want to make money online then PTC sites will be a perfect option for you to start earning.
Because, PTC sites require no experience and no knowledge to earn. People of all ages, students, homemakers, retired etc.. can earn money from PTC sites.
If you are really interested in filling your pocket with extra cash using best PTC sites then read the below content clearly.
Here, you are going to find a list of best PTC sites and a step-by-step guide to earn money from PTC sites.
Quick Summary:
1. You just need a PC or Laptop or Mobile with a good internet connection to earn from PTC sites.
2. Join all the PTC sites listed below and start clicking ads, take surveys, etc.
3. Withdraw your earnings to online payment processors and then to your Bank 🙂
4. Done!
Continue reading to find a step-by-step guide to earn from best PTC sites.

What are PTC sites?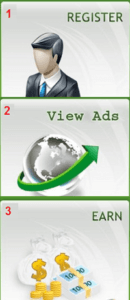 PTC (paid-to-click) sites pay their members for clicking advertisements, watching videos, completing offers and surveys, etc.
You watch ads on television but no one pays you for that but PTC sites will pay you money for watching ads and more.
You can earn from $0.001 – $0.1+ by watching each advertisement of duration ranging from 5 – 60 seconds.
PTC sites are one of the worlds easiest sites to earn money online. You will not find any other easy methods to earn online.
PTC sites acts are mediators between advertisers and viewers(members).
Advertisers purchase advertisement credits to show their Websites/product to viewers. And the PTC sites pay their members for clicking those advertisements.
List of Top & Best Paying PTC sites of 2022
You can register any or all of the PTC sites by clicking on the banners.
Site 1: ySense – Since 2007 (formerly ClixSense)

Earn from: Surveys, Offers, Tasks, Watch videos and more | Min Payout = $2 | Payments: 1, 2, …

Check this guide: How I made $21,436 from ySense?
Site 2: HeedYou– Since 2012

Earn from: Clicking Ads, offers, Tasks and more, Min Payout = $1

Site 3: Neobux – Since 2008
Earn: Per click = $0.001+, Min Payout = $2 | Payments: 1, 2, …

Check this guide: Neobux Earning Tips and Tricks
Site 4: Optimalbux (since Jan 2018, owned by ScarletClicks)
Earn: Per click = $0.001+, Min Payout = $5 | Payments: 1, 2, …

Bitcoin Earning PTC sites list:
Below you will find a list of best PTC sites to earn Bitcoin. Find more bitcoin earning sites here.
If you want to withdraw your Bitcoin earning then use Blockchain, and if you want to exchange Bitcoins for your local currency then use LocalBitcoins.com
The value of one Bitcoin in 2022 is $22,000
Site 1: AdBTC – Since 2016

Earn: Per click = 100+ sat, Surfing, Min Payout = 0.00015 BTC
Site 2: CoinPayU – Since 2019
Earn: Per click = 100+ sat, Surfing, Min Payout = 10,000 Sat
Site 3: BTCclicks – Since 2013
Earn per click = 0.00000098 BTC, Min Payout = 0.0001 BTC
So, these are the best PTC sites of 2022. There are many other PTC sites as well but those sites may not pay you.
All the above best PTC sites(except few) are very old and proven to be paying since 2014 or before.
How to register my account on a PTC site?
Registering on PTC sites takes just 1 – 3 minutes. To register a PTC site just scroll above and find a list of best paying PTC sites.
Then, click on the banner of the site you want to register. After, you click on the banner a website will load.
Next, you need to click on the Register or Sign Up button and fill the required details. Some sites will ask you to verify your email address.
After you have verified your email address, you can log in to that PTC site by using your username and password.
Remember: You can register only one account on a PTC site per IP address or per PC. You can register as many PTC sites as you want but please don't make two accounts on any of those PTC sites.
How to start Earning from PTC sites?
To start earning money from the PTC sites, login to your account then click on "View Advertisements" or "Earn Money" tab.
Now you will be able to see some advertisements, different PTC sites will have a different number of ads on their site.
Each ad can make you from $0.001 – $0.1+ based on their duration. So if you Join a PTC site which has 4 ads of value $0.01 then you can earn $0.04 per day from that PTC site.
$0.04 per day from a single PTC site may sound very less but there are some other ways too to earn from PTC sites. Continue reading…
This way, without investing anything you can earn money by clicking ads.
You can earn $12 or even more from a single PTC site daily by using other methods. Those methods include. Earning from Rented Referrals, Direct Referrals, Offers, Tasks, etc…
How to increase my Earnings from PTC sites?
Clicking ads is not the only option to earn from PTC sites, they also offer several other methods to earn.
You can increase your earnings from PTC sites by,
1: login into your account and click ads daily
2: Perform Tasks, Offers, Surveys, etc..
3: Upgrade your membership
4: Find Direct Referrals
5: Rented Referrals
Tasks: Tasks are very easy to complete and they take less than 5 minutes each. Tasks may include finding words in an article or like Fb pages, etc..
Offers: There are many offers on PTC sites such as registering on websites, playing games, buying from recommended websites, etc.. You will get paid for doing these things.
Surveys: Many companies need your opinion to make their products or services better. You can give your feedback and earn.
What are direct Referrals?
Direct Referrals are people who directly join a PTC sites using your referral link.
If your direct referrals clicks ads or complete Tasks then you will get a certain % of earnings based on your membership.
To find direct referrals you need to ask your friends to join a PTC site using your referral link or promote your referral link on other sites.
On most of the sites, referral links look like this: https://sitename.com/?r=username
You will find your referral link on "Promotional Tools" or "Banners" page. The more direct referral you have, the more you will earn.
What are Rented Referrals?
Rented Referrals are people whom you rent for 30 days. The Price per Rented Referral may differ on each PTC site but the normal price to a referral is $0.20.
You can rent referrals using your account balance(if you have) or by depositing money.
These Rented Referrals will click some ads and make you money. Sometimes Rented Referrals may not make you profit so please make sure that they are profitable before renting on any site.
To find if Rented Referrals are profitable, visit "Your Status" section in the forum of the site you want to rent.
If you are a beginner then please don't rent straight away, take somebody's advice or comment below.
How will I get Paid from PTC sites?
These days most of the top PTC sites are Paying via payment processors such as PerfectMoney, BitCoin, PayPal, etc..
If you haven't joined these online Payment Processors then join now by clicking on the following links: Join PerfectMoney, Join BitCoin Wallet, Join PayPal.
If you don't know how to join those payment processors then click here
You need to an have account on these payment processors to get paid for the work you have done.
You can transfer your earnings from your payment processors to your bank account anytime.
Please make sure that you fill correct information while registering on any of those Payment Processors as they are like online banks.
Below you will find a List of best PTC sites from which you can earn money from home.
You can join all of those PTC sites, the more PTC sites you join, the more you will earn.
Please don't create two accounts on any of those sites. If you want two accounts then get another computer with a different internet connection.
Conclusion:
Earnings from clicking ads might be less but once you get experience in the PTC industry then you will automatically start earning more from PTC sites because "TIME IS EXPERIENCE = MONEY"
If you have any doubts regarding any of those PTC sites or if you have any questions then comment below.
In case you want to earn money by giving your opinion then read about online Survey jobs.